The TP-Link Kasa KP125M is a plug that will work across major smart home platforms, plus it supports energy monitoring — though that's an advanced feature that you'll need an extra app for.
Pros
Scaled-back, compact design
Energy monitoring
Matter support
Cons
A little more expensive than some competition
| Buy From | List Price | Sale Price | |
| --- | --- | --- | --- |
| | $39.99 | $39.99 | See It |
Matter is finally here. The smart home standard designed to make it easier to find and set up devices in your smart home may have experienced some delays, but devices with Matter support have started rolling out. That, however, kind of resets the smart home a little. We've had the basics like light bulbs and smart switches for years — but now, we're getting the first of those devices that work with all the major smart home standards through Matter. Notably, TP-Link's Kasa brand has launched the new Kasa KP125M smart plug with Matter support.
Of course, Matter is still in its infancy, and it doesn't support advanced features like energy monitoring — but the new smart plug does support some of those features. How does that impact the overall experience of using the plug? I've been using the TP-Link Kasa KP125M for a while now to find out.
TP-Link Kasa KP125M smart plug design
The Kasa KP125M doesn't reinvent the wheel when it comes to design. The device has an all-white exterior with a power outlet on the front, and a power button on the side, so you can still control the plug manually.
The plug is relatively small, meaning that it won't cover a second outlet in a two-gang setup. Indeed TP-Link sent me two to test out, and two devices could easily be plugged in, one on top of the other.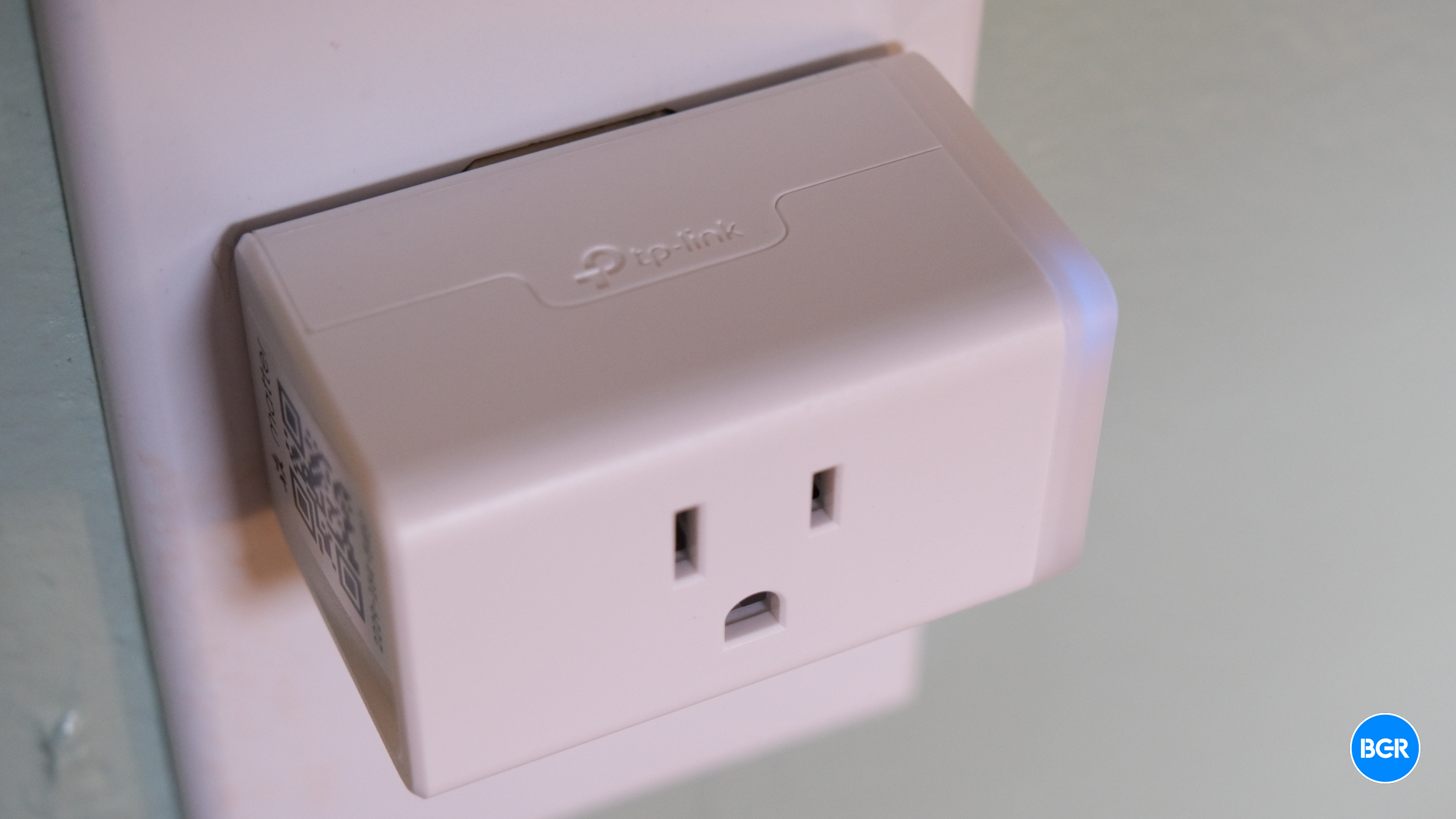 The plug also has an LED on the right-hand side, which is used to indicate status. This is typical, but the light on this plug is larger than many others, which you may or may not care about.
That's really all there is to the design. As mentioned, it certainly doesn't reinvent the wheel, but it's by no means ugly or unsightly. Those who want a permanent solution, of course, might want to consider replacing their power outlet altogether, which would make for a sleeker look. But those who rent, or who want to be able to move their smart plug around, won't have any trouble with the look of the KP125.
TP-Link Kasa KP125M smart plug setup and features
Thanks to the inclusion of Matter, setting up the Kasa KP125M is very simple — though the process will vary a little depending on the platform that you use. I predominantly use HomeKit, and found it as easy to add the plug to my HomeKit home as any other HomeKit device, by simply scanning the QR code.
Of course, given the fact that the device does support some more advanced features, you may want to set it up in the Kasa app. Energy monitoring is the big extra feature here — you won't be able to use energy monitoring in HomeKit, Google Home, or Alexa, so if you want it, the Kasa app is required.
This is by no fault of TP-Link, though. The Matter standard doesn't currently support energy monitoring, and while it's a feature that could be added in the future, there's no guarantee that you'll get energy monitoring through Matter with this plug when it does.
Thankfully, setting up the device in the Kasa app is quite easy, and you'll still be able to use it with your preferred smart home ecosystem if you do so. Having to install a second app does kind of defeat the purpose of Matter in the first place, but if you want the energy monitoring feature, it's simply something you'll have to do.
While I did set up the Kasa app for the review process, I wouldn't have if I wasn't conducting a review. I prefer having everything in one app, and am willing to give up energy monitoring to avoid installing a second one.
Using the TP-Link Kasa KP125M smart plug
Once the plug is set up, it's extremely easy to use — as you would expect. You can turn it on and off from your preferred app, and use the accompanying voice assistant. I'm glad these plugs continue to feature physical buttons too.
The energy monitoring feature may come in handy for some, and I found that the app offered useful tools to see energy usage over time.
Conclusions
The TP-Link Kasa KP125M is a solid smart plug for those who want something that works with various smart homes. Matter-compatible plugs are still a little more expensive than some alternatives, so you'll pay $40 for a two-pack or $66 for a four-pack. But if you want Matter, and could use the extra energy monitoring features, it's worth buying.
The competition
If you don't care about energy monitoring, it's worth saving some money for a different option. Notably, TP-Link's other smart home brand, Tapo, offers a Matter plug without monitoring that comes at $17.99 for one, or $44.99 for three. It's not much cheaper than the Kasa KP125, but it is a little.
Should I buy the TP-Link KM125M smart plug?
Yes. It's a good smart plug with some solid advanced features.